The best of two worlds
Combining the incense making mastery of the East with the mystical palo santo wood from Peru, we are bringing luxurious palo santo incense to your home.
The uniqueness of palo santo
Palo santo is a tree native to the South American Andes. The magic of this wood starts when the tree has naturally fallen, and it is left to rest on the forest floor, where it begins producing an aromatic oil.
For palo santo, sustainably harvested means that no living trees are cut, and only fallen branches and logs are gathered from the forest floor.
All of our palo santo has been reclaimed this way.
About us
Paying it forward
We honor the forests in Peru where our palo santo was harvested.
We are proud members of 1% for the Planet and donate a part of our revenue to support reforestation in the Peruvian mountains.
Free Shipping
All orders above $45 qualify for free shipping.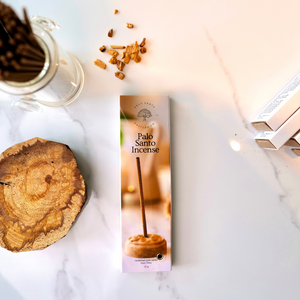 Palo Santo Incense Sticks
Sale price Price $20.00 Regular price Unit price / per